VCSO Visits Space Systems Command, Shares Vision for New Field Command
LOS ANGELES AIR FORCE BASE, Calif. — U.S. Space Force Vice Chief of Space Operations Gen. David D. Thompson met with Guardians and Airmen during his visit to Space Systems Command Oct. 4, marking his first visit to SSC since its activation.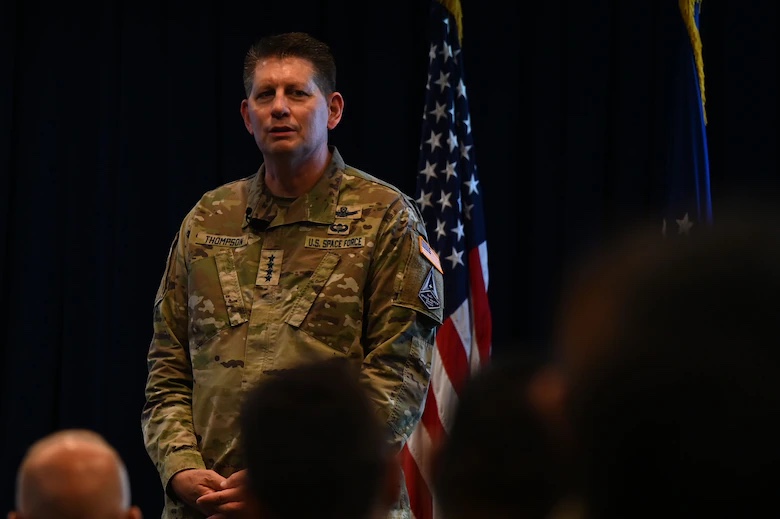 Thompson, who is the first VCSO in USSF history, made resolute expectations for the newly formed field command during an All Call with SSC Guardians and Airmen.
"SSC needs to re-energize its approach to seeing, understanding and rapidly developing while fielding new capabilities to keep us ahead of threats that we see from China and others," Thompson said.
Noting the important mission that SSC has in the space domain, Thompson stressed to its members to help the U.S. Space Force hasten its pace.
"We have to ask members of SSC to tell us what they need in order to change policy and regulations, and even work with congress to change laws that will allow us to move faster," Thompson said.
Furthermore, Thompson recognized the importance of bringing prosperity to SSC through ever-expanding partnerships in the acquisitions community.
"Commercial companies are moving so rapidly," he stated. "We need to develop partnerships with the commercial sector to understand what they are doing as well as be able to leverage it to our benefit."
Thompson re-emphasized the roles of leadership for SSC as well as other field commands that will help build a more lean and agile U.S. Space Force.
"We have to put authority and responsibility back into the hands of the senior materiel leaders to give them the authority and resources to stay engaged at a strategic level." Thompson continued. "But leave them alone to do the business we have trained them to do.
By SSgt Andrew Moore
You can skip to the end and leave a response. Pinging is currently not allowed.