HARTFORD, Connecticut — Members of the 104th Medical Group attended a two-day Tactical Combat Casualty Care course through the Center for Education, Simulation & Innovation with Hartford HealthCare Sept. 18-19, 2021, in Hartford, Connecticut.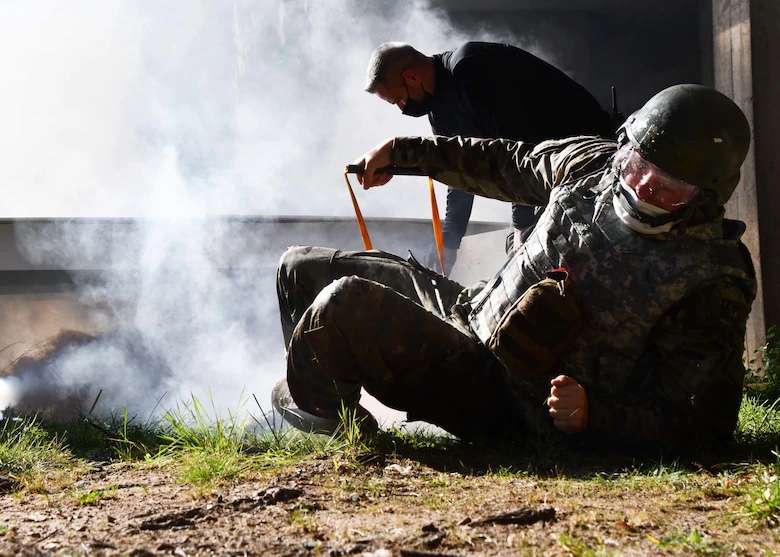 During the interactive event members were taught the goals of TCCC, which are to treat the casualties, prevent additional casualties, and complete the mission. They were also taught the three phases of TCCC; care under fire, tactical field care, and tactical evacuation care.
"TCCC is a new secretary of defense medical initiative that can be used by all members while deployed in theater or during home station emergencies," said Staff Sgt. Mike Reynolds, 104MDG aerospace medical technician. "During this specific training, 104MDG members went through live action scenarios, hands on skills, and critical thinking situations to perfect their knowledge of combat related casualties."
According to Rob Lanouette, Department Consultant for the Tactical Medical programs at CESI, good medicine can be bad tactics if you don't do the right thing at the right time.
"The TCCC course is important in that it is designed to integrate medical care and tactics in a combat environment," said Lanouette. "TCCC addresses those differences."
Lanouette went on to describe the purpose of the three phases of care. During the care under fire phase, treatment is limited to suppression of hostile fire, moving the casualty to cover and controlling massive hemorrhaging.
Tactical Field Care is the care rendered to the casualty once the casualty and rescuer are no longer under effective fire. A more in-depth assessment and treatment are rendered.
Tactical Evacuation Care is the care that is rendered during transport by aircraft, vehicle or boat to a higher role of care. The care that was rendered in the Tactical Field Care is continued in this phase. More advanced care may be rendered as additional equipment may be carried by the evacuation unit.
Reynolds said mastering the three phases can play a critical role in saving lives.
"It is important for all military members to be trained in the basics of TCCC so if a situation ever occurs, life can be maintained until the next level of care can be accomplished," said Reynolds. "This was a great training for the members who participated because it gave us a chance to perform under pressure and to really test our knowledge, not to mention the comradery that was felt throughout the training."
On the second day of training, the 104MDG Airmen were required to participate in a final scenario. This scenario was a culmination of the TCCC objectives that were learned throughout the course and is designed to simulate an austere environment. Audio and visual devices, environmental conditions and physical activity were utilized to induce stress that is often found in those environments.
Lanouette, also a prior Marine who served as a paramedic for 28 years and state trooper for 21 years, said he was impressed with the work ethic and ability of the 104MDG members to complete the 16 hour course successfully.
"The 104th did a great job representing the Air Forces Medical Services mission by displaying their commitment to delivering trusted care," said Lanouette. "As the coordinator of the final scenario, I had asked a lot from them. I may have taken some of them out of their comfort zone during this mentally and physically demanding final scenario. The 104th was able to meet the objectives of the course and should be proud of this accomplishment."
By Randall Burlingame, 104th Fighter Wing
You can skip to the end and leave a response. Pinging is currently not allowed.