The Multi-Domain Warfare Officer Initial Skills Training class 21B visited the 805th Combat Training Squadron's Shadow Operations Center at Nellis Air Force Base, Nevada, also known as the ShOC-N, to observe the experimentation and incubation of new command and control technologies and development of C2 tactics, techniques, and procedures, Sept. 23-24.
Nellis AFB, Nevada, was the second of a four-leg trip for the Multi-Domain Warfare Officer, or 13O, students traveling to geographic and functional operations centers.  The class' destinations included the Combined Space Operations Center, or CSpOC; Space Delta 5, at Vandenberg Space Force Base, California, the 612th Air Operations Center, Davis-Monthan AFB, Arizona, and the 616th Operations Center at Joint Base San Antonio, Texas.
The 19 students of class 21B also toured ShOC-N's downtown Las Vegas site, the Howard Hughes Operations, or H2O, facility. AFWERX briefed the 13Os about their latest efforts to discover innovative opportunities within industry and Department of Defense partners for delivering tangible capabilities to warfighters.
In 2019, the Joint Chiefs of Staff tasked the ShOC-N to become the U.S. Air Force's Joint All-Domain Command and Control, or JADC2, Battlelab. Part of this task as recently evolved to make the ShOC-N the primary location for data gathering and sharing to further enable the U.S. Air Force's Advanced Battle Management System Battlelab ecosystem.
The 13O students' Nellis training concluded with peer adversary Integrated Air Defense Systems and threat emulation briefings from the 547th Intelligence and 57th Information Aggressor Squadrons, respectively.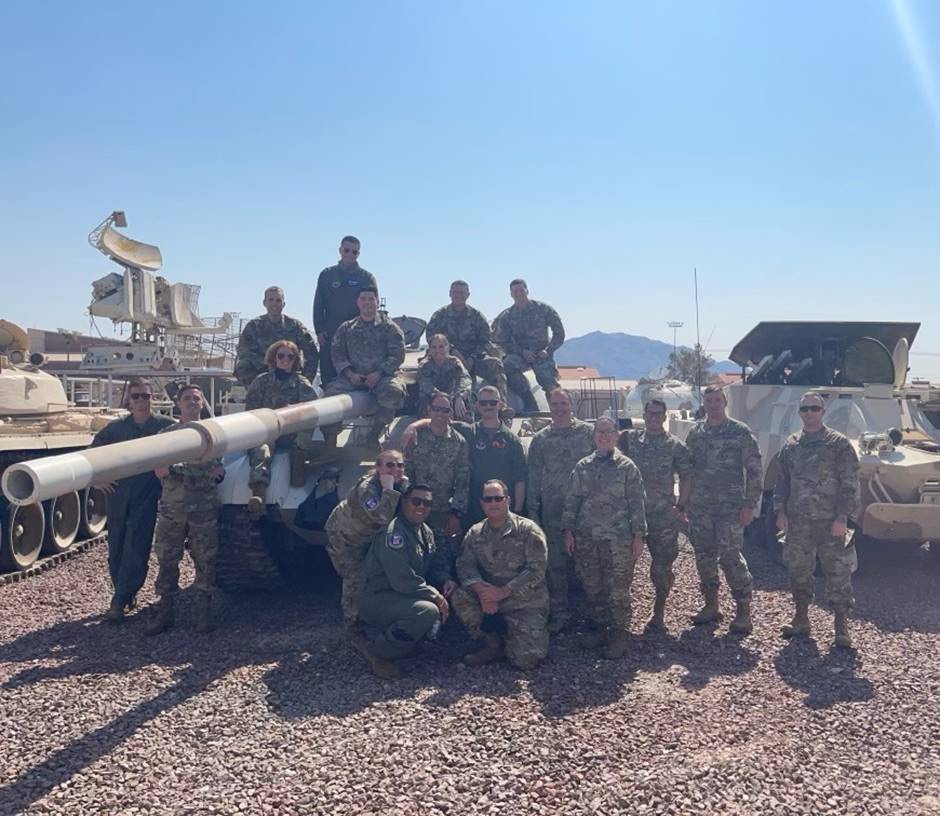 "Our adversaries' threats and capabilities are real; within months, these 13Os are going to be the multi-domain operational planning experts that senior leaders look to for COAs [courses of action] on what to do, how to do it, the risks involved, and how to effectively mitigate those risks," according to Lt. Col. Joe "DACO" Thompson, 705th Training Squadron operational warfare training flight director.
Thompson continued, "13Os can't provide COAs without knowing who is doing what and where. A lot of 'what and where' is on the ground at Nellis, but there's also a lot of 'what and where' within our sister services' components and non-air domains. We teach them that, and this TDY [temporary duty] reinforces that critical 13O mindset."
The 705th Training Squadron's Multi-Domain Warfare Officer Initial Skills Training course is taught at Hurlburt Field, Florida. The 13O course deliberately develops a multidisciplinary force skilled in operational art and design across all domains.  13O graduates will be operational planners versed in the joint planning process, representing the U.S. Air Force's equity in the joint planning environment, affecting Joint All-Domain Command and Control, or JADC2, and Joint All-Domain Operations in a high-end, near-peer conflict.
To learn more about 13O training and the Multi-Domain Warfare Officer career field, visit the following websites: intelshare.intelink.gov/sites/C2/13O/SitePages/Home and www.milsuite.mil/book/groups/13O.
The 705th TRS reports to the 505th Test and Training Group and 505th Command and Control Wing, both are headquartered at Hurlburt Field, Florida.
Deb Henley
505th Command and Control Wing Public Affairs
You can skip to the end and leave a response. Pinging is currently not allowed.