HURLBURT FIELD, Fla. —  
An aircrew with the 492nd Special Operations Training Group Detachment 2, Hurlburt Field, Florida, conducted the palletized munitions platform's first live-fire test from an MC-130J Combat Talon II for the Rapid Dragon program, Dec. 16, 2021, over the Gulf of Mexico.
Air Force Special Operations Command's year of innovative projects started with the creation of mission sustainment teams and leapt to the conceptualization of an amphibious capable MC-130J concept. These pathfinding efforts pave the way for a ready and relevant force of future warfighters.
The final demonstration of the palletized munitions platform showcased a new capability for mobility aircraft that gives any airdrop-capable cargo aircraft the ability to retarget and employ standoff munitions en masse.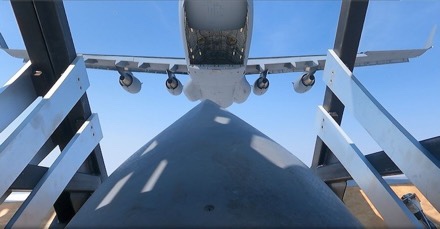 "Rapid Dragon is one of our pathfinding efforts that showcases the speed of capability development when the right teams are partnered together, combined with a rapid iterative design process that builds, tests and refines prototypes as fast as possible throughout the year," said U.S. Air Force Maj. Ryan Pinner, chief of pathfinding and innovation for AFSOC. "We started 2021 by airdropping 15,000lb steel boxes to identify the best parachute configurations during the Emerald Warrior exercise in March. Following a total of 15 flight demonstrations on three different aircraft, we sunk our target on the Eglin Overwater Test Range before the end of the year."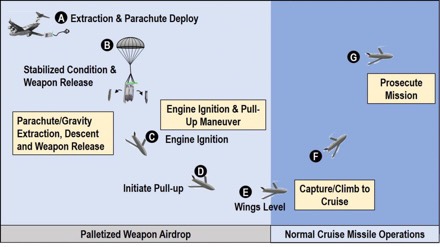 Adding palletized munitions to an aircraft designed as a multi-mission combat transport and special operations tanker enables combatant commanders to increase the number of platforms available to put adversary targets at risk.
"As the weapon system goes back into design to incorporate mixed loads and future weapons, I look forward to integrating this capability with the downrange combatant commands in the near future," said Pinner.
The live-fire exercise is a result of a pioneering partnership between the Air Force Strategic Development Planning and Experimentation Office and AFSOC, as well as U.S. Special Operations Command Detachment 1, the Naval Surface Warfare Center-Dahlgren, Standoff Munitions Application Center, Lockheed Martin Missiles and Fire Control, Systima Technologies, Safran Electronics & Defense, Parachutes USA and R4 Integration, Inc.
Earlier in the year, the 27th Special Operations Mission Support Group, Cannon Air Force Base, New Mexico, stood up three mission sustainment teams comprised of 60 members who train, operate and deploy together.
"This team trains together, learning operational functions of each other's career fields and bond together establishing a family-type relationship to deploy in support of special operations forces elements," said U.S. Air Force Maj. Justin Lukso, chief of plans and integration with AFSOC. "They don't just speak the lingo of their own [Air Force Specialty Code], but also of those other career fields they train alongside within their SOF force generation cycle as a member of the MST."
Having a variety of career fields working as one allows AFSOC to incorporate faster movement and sustainment during contingency operations.
"An MST provides the capability to establish, sustain and retrograde from a forward operating base while simultaneously supporting up to three contingency locations and enabling command and control, and mission generation," said Lukso. "This is incredibly valuable in keeping adversaries guessing and maintaining unpredictability while competing on a global scale. The ability to effectively support SOF operations with a minimal footprint at multiple locations provides a competitive advantage."
During the Air Force Association 2021 Air, Space and Cyber Conference, AFSOC announced the development of the MC-130J Combat Talon II Amphibious Capability. The removable amphibious float modification allows improvement of the aircraft's global reach, and survivability of the aircraft and Air Commandos.
"The MAC helps the Air Force and [U.S. Special Operations Command] create cost-effective and complex dilemmas for our adversaries, particularly with runway independence for the Joint Force and our allies," said U.S. Air Force Lt. Col. Joshua Trantham, deputy chief of science systems, technology and innovation division with AFSOC. "We need distributed operations. Opening seaborne operations vastly expands options in Joint Operations Areas beyond what adversaries can easily address, which is highly valuable from both conventional and special operations perspectives and logistics under attack requirements."
As the battlefield changes, so will AFSOC as it continues to 'path find' new operational concepts and technologies for the Air Force while aligning experimentation efforts with the Joint SOF enterprise.
"We are accelerating change within the command to ensure we are the AFSOC that is needed in the future," said U.S. Air Force Maj. Gen. Eric Hill, deputy commander of AFSOC. "These innovative examples demonstrate our ability to turn fast and create new capacity out of existing capability. I am proud of the accomplishments we've made this past year and look forward to the many pathfinding efforts our Air Commandos will bring to the future fight."
Air Force Special Operations Command Public Affairs
You can skip to the end and leave a response. Pinging is currently not allowed.