HURLBURT FIELD, Fla. —  
Air Force Special Operations Command wrapped up its 15th Emerald Warrior exercise that provided realistic and relevant training to prepare special operations forces, conventional forces and international partners for conflict in an evolving, strategic environment. 
The EW 22.1 planning team applied lessons learned from real-world operations to train and ready forces to the joint force, while staying focused on security priorities laid out within the 2022 National Defense Strategy; specifically, pacing strategic competitors. Trained, credible forces and strong international partnerships are pivotal to this effort.  
"In this year's iteration, we improved our approach to command and control through the employment of the Special Operations Task Group and Special Operations Task Unit," said U.S. Air Force Col. Kevin Koenig, exercise director of Emerald Warrior. "This dispersion of leadership allowed for real-time, on-the-ground decision making and allowed commanders to perform operations quickly and more efficiently. We exercised our agile combat employment capabilities and focused additional training on non-kinetic skillsets to include public affairs and information operations. With our partner nations and sister services, our goal is to continue to deter adversaries, now and in the future, in all domains."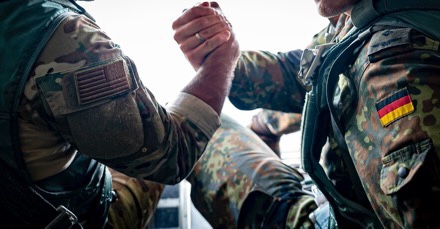 The objective for this year's EW was to gain and maintain an advantage on the battlefield and in the information environment, and grow kinetic and non-kinetic effects above and below the threshold of armed conflict from strategic competitors. 
This annual exercise is an opportunity to further test and improve future approaches to AFSOC units like the mission sustainment teams. These MSTs established forward-operating bases by providing initial site security, receiving cargo and personnel, and setting up shelter. 
"It was very impressive how the 1st SOW and 27th SOW [from Cannon Air Force Base, New Mexico] capabilities came together in order to forward stage our contingency locations during this exercise," said U.S. Air Force Lt. Col. Travis Deutman, commander of the Emerald Warrior SOTG. "As these capabilities continue to progress, it'll definitely be something that'll be useful within AFSOC." 
In line with AFSOC's Strategic Guidance, the exercise fuels on-going innovation and experimentation efforts within the command.   
"The most important idea to understand about Emerald Warrior is that as AFSOC implements force generation, we're building new concepts; the two biggest concepts being the SOTG command team and our MSTs," said U.S. Air Force Col. Michael Haack, deputy director of operations for AFSOC. "These concepts combine to enable the force to do agile combat employment in a contested environment. We increased our agility; we pushed our decision making forward to the lowest level. These teams are trained and enabled, and ready to fight the fight in the contested and uncontested environment." 
In addition to introducing new command and control structure, the exercise continued as a forum of collaboration between the U.S. and its international partners and allies. This year, AFSOC hosted partners from the Czech Republic. 
"We look forward to working with our partner nations and coalition forces from across SOF," said Haack. "Emerald Warrior allows us to problem solve in an exercise environment, establish communication and build enduring relationships. Those relationships with our Czech partners and fellow SOF coalition forces are critical so we're not meeting them for the first time down range." 
By 2nd Lt Cassandra Saphore, Air Force Special Operations Command Public Affairs
You can skip to the end and leave a response. Pinging is currently not allowed.